Online Success with Power of SEO
The power of SEO stands tall as an enchantress in the wide domain of the digital landscape, where dreams and ambitions combine, weaving its magic to convert ordinary websites into compelling digital destinations. SEO, like a magician, produces an ethereal aura that attracts people, drives enterprises to new heights, and leaves an everlasting mark on the online world's fabric. Join me on a quick trip to find out tips to unleash the mysterious force's hypnotic essence and astounding talents.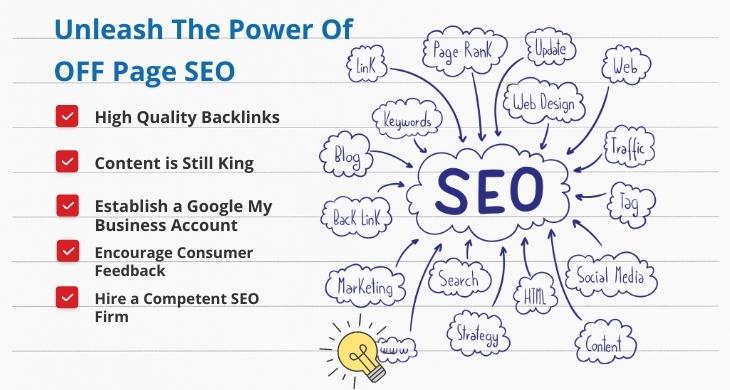 Quick Tips for to Unleash Power of OFF Page SEO
High Quality Backlinks: Obtain high-quality backlinks from authoritative websites. Backlinks are one of the most essential search engine ranking criteria. When other websites connect to yours, Google learns that your site is authoritative and trustworthy. Backlinks may be obtained via guest blogging on other websites, engaging in social media, and submitting your website to directories.
Content is Still King: Create and distribute original, interesting content. When it comes to SEO, content is still king. The more high-quality material you produce, the more probable it is that you will receive backlinks and boost your ranks. Make certain that your material is well-written, educational, and pertinent to your intended audience.
Establish a Google My Business account: Google My Business is a free service that allows you to list your company on Google Maps and Search. This is an excellent approach to boost your local SEO and make it simpler for customers to locate your company.
Encourage consumer feedback: Positive customer evaluations are an excellent method to increase the authority and credibility of your website. You may solicit client feedback by requesting it on your website, in your email signature, and on social media.
Hire a competent SEO firm: If you lack the time or skill to perform off-page SEO on your own, you may engage a professional SEO company to assist you. If you need results fast and simple, this is an excellent solution.
Have patience. Off-page SEO takes time to implement. Don't expect to see results right away. Just stay at it, and your website's rankings will ultimately increase.
Eduhive Creative Studio offers a progressive SEO plan for your online presence which strengthens your web presence and accelerates your growth by making the online scenario conducive in discovering your business easily.
We Believe We Grow When You Grow!