User Interface Design
Increased Customer Engagement
Increased Customer Engagement
When the success of your software application depends on user interface design,
can you afford to take chances?

With average human attention span falling to 8 second, the need for user friendly yet creative design in your website has risen.The initial visual presentation of your brand and the ease of usability of your platform shape the UI design experience. We design user experiences that effectively ensure your digital solution becomes a lovable product. Our goal is to make your user's life as simple and pleasant as possible.
Customer Centric
User Interface
At Eduhive Creative Studio we work believe in collaboration and combining the best. We extensively with companies, freelancers, developers in getting the visual and usability of their products right. From developing the architecture, to creating the wireframes, interaction, developing prototype designs, creating custom icons, and communicating the brand vision, we can work with your team through the complete production process.With this service we especially focus on the look and feel and let the collaboration do its magic.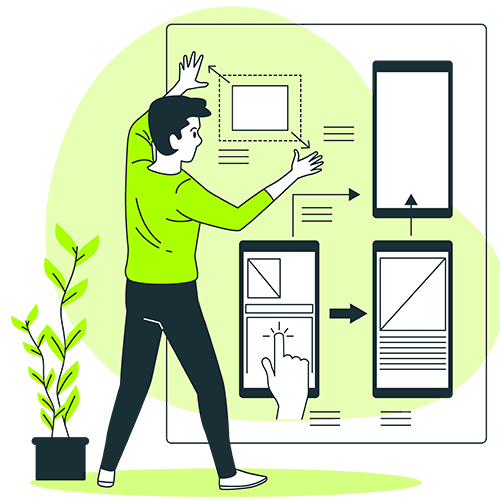 Our Process
<!============= Process Steps Template Designer 1.3.2 =============>
Step 3

Usability & Navigation Analysis

Step 5

Graphical Production & Iconography

Step 4

Wireframe & Skin Design

Step 2

Process & Workflow Analysis

Step 6

Prototype Testing, Review & Analysis

Step 1

Understanding The Brand
UI Design Principles
At Eduhive Creative Studio UI Design focuses on solving usability problems.
We also integrated closely with other software companies as external consultants.
Eduhive Creative Studio: Best UI (User Interface) Design Services in Dehradun, India
Eduhive Creative Studio offers best user interface design services by crafting innovative digital experience for web and mobile application. Our creative team offers affordable solutions for user interface designs.
What is UI (User Interface) Design?
User Interface is how a user communicates with web or mobile application. The user interface is one of the most important parts of any application because it determines how easily you can get what is required from the application. User Interface (UI) Design focuses on anticipating what users might need to do and ensuring that the interface has elements that are easy to access, understand, and use to facilitate those actions.
Benefits of User Interface Design
A well innovative user interface design helps businesses to
Stand out from your competitors
Reach out to new customers
Increase customer engagement and retention
Increase Productivity
User Interface Design Services by Eduhive Creative Studio
Eduhive Creative Studio offers mobile UI design services where we take utmost care to create the user centric design that is clear, concise, functional and rich in aesthetics.