Design thinking is a valuable approach that fosters creative problem-solving in the field of graphic design. By viewing specific problems in a broader context and providing custom-made solutions, designers can achieve exceptional results consistently. This article aims to introduce you to the concept of design thinking and its application in graphic design.
Graphic design plays a crucial role in visually communicating key brand messages to target audiences. It involves creating visually appealing assets that align with specific messaging and brand guidelines. Design thinking ensures that each design piece serves a specific purpose or addresses a particular problem effectively.
To better understand design thinking, let's consider an example. In today's digital landscape, it's common knowledge that businesses need a social media presence. However, merely posting content without a strategy can lead to wasted time and resources. By implementing the design thinking process, every social media graphic is created with the intention of furthering your business agenda.
But what exactly is this agenda?

As Simon Sinek famously explained, it's the "why" of your business—the underlying reason for what you do and how you aim to address a specific problem for a defined group of people. Design thinking ensures that your social media graphics align with your business's core message and resonate with your target audience.
Successful designers follow a logical, step-by-step graphic design process that combines creativity with effective communication, critical thinking, and problem-solving skills. By adhering to this process, designers can transform a concept into an effective visual communication tool.
Here are the key steps involved:

1) Build Out the Creative Brief-: Establish a comprehensive creative brief that captures the client's requirements, project specifications, and goals. Review it with key stakeholders to ensure clarity and alignment.
2) Research the Design Ecosystem-: Conduct research to understand the product or service you're representing, analyse competitors' designs, assess market positioning, explore target audience preferences, and study colour theory and design trends. Use this research to create a mood board and gather inspiration.

3) Develop and Refine the Graphic Design Concept-: Based on the creative brief and research insights, start developing the framework for the final design. Present multiple design concepts to the team, gather feedback, and refine the chosen concept to align it with the project goals.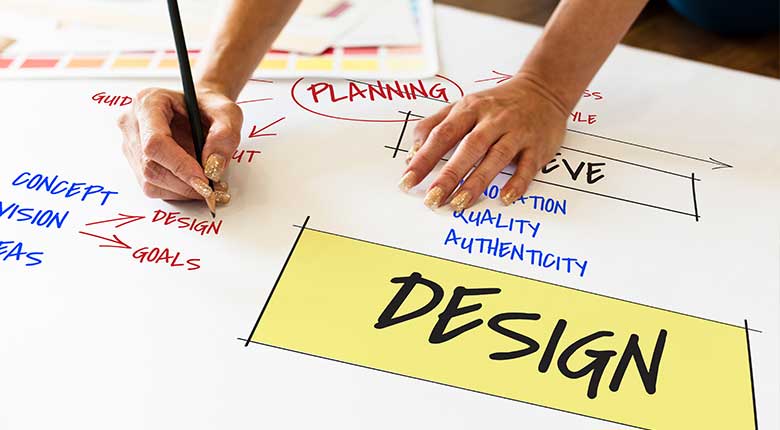 4) Create the Design:– Bring the approved concept to life by applying best practices for colour, typography, hierarchy, and space. Utilise graphic design software and tools efficiently. Conduct a self-critique to ensure all elements align with the goals outlined in the creative brief.
5) Collect and Implement Feedback-:Collect and Implement Feedback: Share the design with stakeholders for review and gather feedback. Make requested changes, present the updated design, and explain how your decisions align with the creative brief. Iterate this feedback loop until the final version is approved.
6) Finalize and Deliver the Design Assets:– Package the design assets in the appropriate formats for easy implementation, ensuring they align with the creative brief. This minimises the need for further modifications. A well-executed design brief and a structured feedback process help manage expectations and demonstrate how the goals and specifications were met.

In conclusion, embracing design thinking in graphic design enables designers to approach projects with a problem-solving mindset, leading to exceptional outcomes.