Effective Communication with: 2D animations
When selling your product or service, it's vital to make sure your customers understand what exactly it is that you are selling. Its functionalities need to be broken down as most of the tech products are abstract and cannot easily be understood. This is where a 2D animated video can come to your rescue. They don't require actors to be hired and all these are more affordable than live action videos and can very easily be used to explain all the functionalities in detail. They can help in turning abstract information into more tangible form. Thus, making your product better understood by the target customers.
2D Animation: The Advantages:
One of the key reasons that 2D animations engage viewers so effectively is that they are minimal, clear and do not overwhelm their audience. Their simple feel really puts viewers at ease. But don't be fooled into thinking that the message is therefore simple. This is not the case.
Even a complex message can be conveyed in a short, attractive 2D animated video. This is because of the profound information that the combination of audio and visuals in an animation can communicate. Due to the multiple senses that can be appealed to with 2D animated videos, they convey a message quickly and efficiently. This is fantastic for the increasingly fast-paced world we live in, as your video can get to the point fast, so busy users do not click away.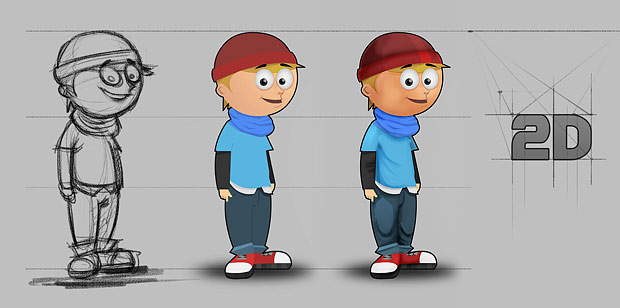 Research has shown that an engaging 2D animation can significantly increase a website's conversion rate and positively influence viewers to make that all-important 'in or out' decision more quickly.
What are you personally more likely to remember – reading text on a webpage or watching an entertaining video by the same company?
2D animation can be used by businesses in a variety of different ways to raise brand awareness. They could be interesting explainer videos or they might be creative animations that draw viewers in and encourage them to find out more about the company. Innovative, highly interesting or imaginative animated videos are likely to be shared across social platforms, thus increasing the coverage of your message.
2D animated videos are not only effective for providing information to potential customers, but also to employees of your company. Internal communications can be just as instrumental in achieving success after all, so give animation some thought. Your workforce can be more motivated purely by the creative and engaging presentation of information in animated video format. This can include company changes, training and health and safety information, among other key communications.
We Believe We Grow When You Grow!