Storytelling - an art to give people a reason to remember your brand
video marketing services
Communicate Engage Convert
Great Storytelling Drives Great Metrics

The need for video marketing services is on the rise with more and more people connecting digitally. People understand things much faster when it is 'shown' to them. Grab audience attention, and enrich your business by storytelling.
Entice, Evoke & Engage The Viewer's Heart.
We believe that stories are the easiest way to explain a concept to anyone in this clamorous world. At Eduhive Creative Studio we create unique, handcrafted videos that link ideas to emotions, connect brands to audiences and help you get where you need to go. Whether you're selling a product, service or vision –
We can help you do it better!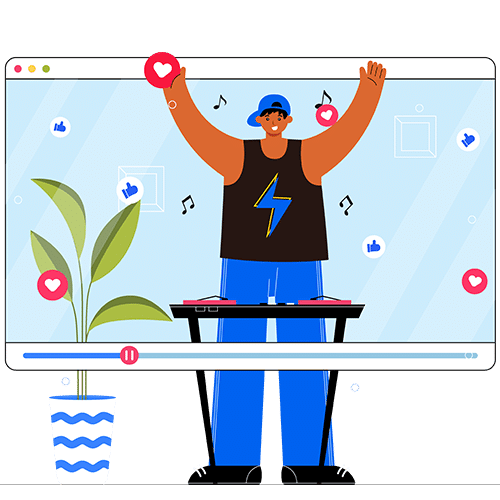 WHAT WE DO
Explain your ideas in the blink of an eye, to generate a buzz in social media.
Tell us What challenge is your business facing? We can help you solve it with video.
More than 90% of worldwide video users consider video creation and distribution as a priority in marketing and brand building. At Eduhive Creative Studio we are used to explaining very complex concepts — so we know what questions to ask and what information to gather. We make sure do develop videos that's custom for your brand and lives up to your company's reputation 
More than 5 billion videos are seen across all mediums worldwide every day with over two billion active users. Our vast experience on creating compelling videos means high value and low risk for your business.
More than 85% of businesses use video on their website while more than 75% of businesses use videos on their social media pages. You get the quality, custom video you deserve — without the hassle, hang-ups, communication issues, or ambiguity
Questions We Get Asked Often
Ready To Create
An Awesome Video?
Eduhive Creative Studio: Best Video Marketing Services in Dehradun, India
Eduhive Creative Studio offers effective video marketing services to promote your business. We offer engaging explainer, promotional, social and e-learning videos that help tell your story.
What is Video Marketing?
Video marketing is a process of using video to promote or market your brand, product or service.Video marketing is the fastest growing online marketing tool vastly used for brand promotions.
Benefits of Video Marketing
Video marketing helps businesses to
Reach more viewers across the globe
Stand out from your competitors
Increase Conversions
Boost SEO
Video Marketing Services by Eduhive Creative Studio
Eduhive Creative Studio offers video as per your business idea and needs like Explainer videos, Promotional videos, Introductory videos, Marketing videos & Interactive E-learning videos.