"First impressions are important"…
Presentable clothes, matching accessories, getting to meetings on time – it all matters. It shows people around you that you care. Online, first impressions matter too. Website visitors make judgments about website credibility in as little as 50 milliseconds, and one in five website visitors will leave your website, not giving you a second chance. Staying on top of the current trends makes it possible to create best websites that will impress your audience, and will hold users attention for the first crucial 10 seconds, and beyond. Check out some of the lookouts for website design and development for 2017.

Grids and cards can be seen as the today form of Layout throughout websites. But this is also leading to almost similar looking websites. This 2017 experiment with the placements and add on looks by styling content containers and give real dynamic experience to the users. Above all it is very important to think about responsiveness due high increase in mobile views.

You will be watching many websites going back to multiple pages for organic search. Doing so you should always work on interlinking the segments or working on funnel formation within the website.

Using numbers and with precise information: A web designer that built 60 websites comes across as more competent than the one who has 'many years experience in the industry'. Persuade your visitors with numbers.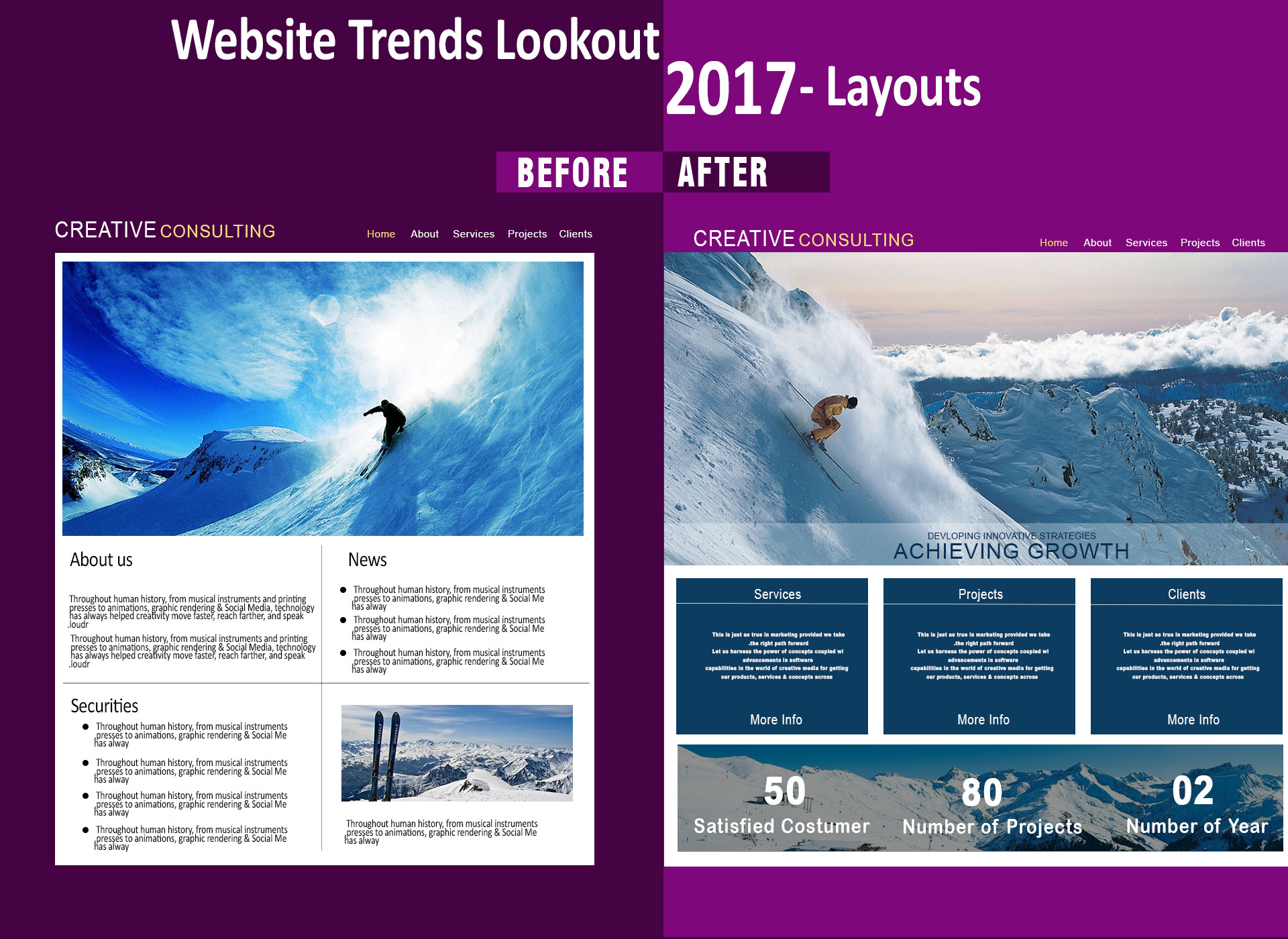 Focusing on Originality:  Everyone is fed up of overuse of stock photography. Yes they have a huge library! But still you can see various sites of one domain have the same repeated imagery. Moreover the smiling professional people image seems fake! Let's take a creative bite… and explore in line with the graphic team…

The new design talks about:
Illustrations : A beautiful heartwarming way to attract attention and explain your story
Bold Typography: need to focus o a point… Experiment with the Type. Evoke emotion and set tone. Although you must be careful not to overdo it.
Flat 3d shapes: Yes we have seen a lot of flat design. But what about combining them with 3d shapes… Two contradicting worlds coming together.
Info graphics: Using data to identify the areas in which a designer's touch will make a difference and tying that in with your website's user experience is the key.
GIFS : These are responsive, and attention grabbers
Parallax motion: Over recent years, more and more websites have been making the use of parallax scrolling. This allows the foreground and background to scroll at different speeds, giving the viewer the illusion of depth and is used in website storytelling and product demonstration. If you are reading with a global audience perspective then this will not be called as a trend, but we are reviewing this as hot cake focusing on Indian audience. We still have a long way to go with parallax motion and it is the new thing which can be experimented further
What seems to be going Dead:
It is defiantly good to remain updated on what next? But for a brand to have a 360 degree view is important. Hence here is some point you might consider to change or not use in your project.
Non-Responsive websites is the most obvious area of rapid change. As the use of mobile platforms and multiple devices continues to grow, and Google continues to favor mobile-friendly sites in search results, those who haven't already will update their website to avoid losing potential users and to provide a better user experience.
Splash Page is typically an animation or graphic the user sees before reaching the actual content on the website. Generally annoying and slightly pointless, splash pages date back to early websites, however it is still fairly common to see them in use. Firstly splash pages are bad for search engines. Statistics also suggest that a splash page is likely to significantly increase bounce rate. If a flash animation is used and the viewer does not have flash, a loading or error message will appear instantly.
Offer pop ups, personally we want these to become extinct. particularly given the ongoing annoyance they cause coupled with the fact it is not responsive
Dead Links is not about any trend. We all know it should be immediately removed. Do not create buttons, linking text without a carryover… Other there confusing the user it also creates a response that the website is not updated…
Bonus tip! Customize your Google Map
Ready to think/rethink about your website? Need help!  Connect To Eduhive to get your website customized!